From left to right: My first attempt was just for the birds ;-) . I had no idea how long i had to expose and so the first test was a good exaple in "how to make everything wrong". The most funny thing was, that the etching fluid, that normally is from clear to a little bit blueish, turned into brown colour. The reason was, that the photo coating was not exposed and / or developed with the right time. I read the instructions of the board's manufacturer and found out, that the developing process must generate shiny copper surfaces within a maximum of 4 minutes. Otherwise the UV exposure is not long enough.
Version two was not inverse and brought some better result. I did this very first tests with paper and some transparency spray. It works, but in my eyes just as some expedient. Anyhow - i did not follow this way any longer and am not able to say, how much better the results can be at all. I also used my EPSON WorkForce Pro printer for that attempt. This printer's ink does not generate the adequate density at all
Version three is made in combination with inkjet film and the EPSON R285. It delivers enough density, but i used the wrong holders. My combination of a foam board and a 2mm thin glass panel was to stable enough, so the film was not really lying against the board. It's best to see on the small reference lines on the edge.
The fourth example on the bigger board shows my last try. It's working pretty fine in comparision with the first try. The only problem i still had, was that i always got those problems in solving the copper at the edges of the board. It has nothing to do with the clamps i use for holding it in the etching fluid. If it was so, i wouldn`t have those ugly stripes an all four sides. I guess, that this has to do with the board material. So this was the reason, why i changed to BUNGARD boards - what should i say: That boards work!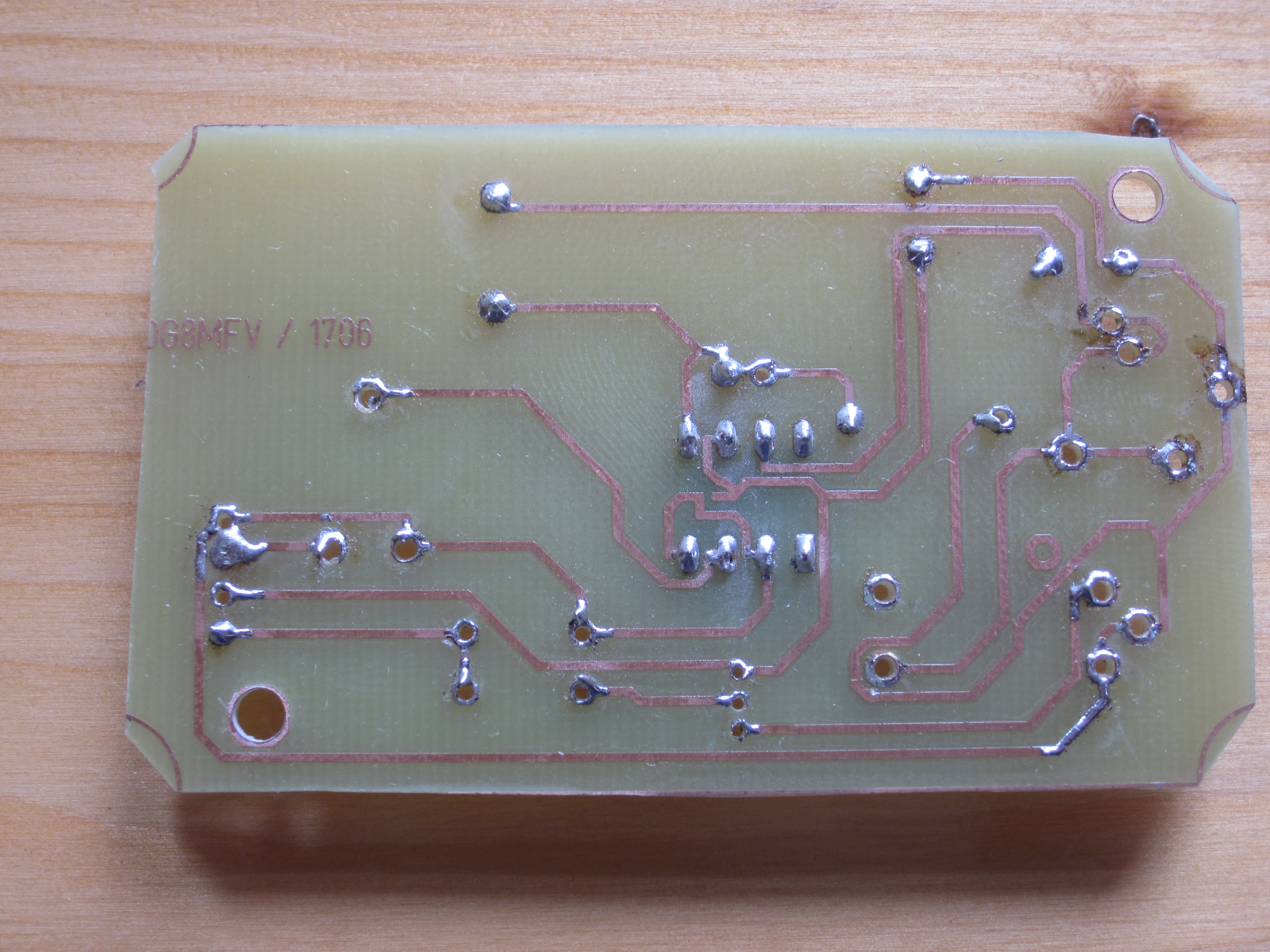 This is my first result with BUNGARD - it's an already used board, but it shows how good that process works now with my equipment. The parameters of the process are now: Exposure 80 seconds; Developing bath about 1-2 minutes - just watch until the copper on the exposed area is shiny and no further coating is being solved; Etching about 10 minutes with about 40-45°C (the first copper solves in 6 to 7 minutes, then it goes on fast)